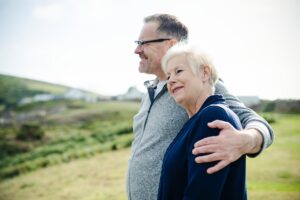 Although many seniors appreciate the security of assisted living facilities, others would prefer to live at home as long as possible – ideally, forever. This is known as aging in place. This is a great option for many older people, but it isn't always easy. In fact, it often takes serious forethought and hard work. Offered to you by ActivelyFitSeniors, here are a few tools for success that will help you achieve your aging-in-place goals.
Exercises That Improve Balance
One of the biggest hazards facing seniors at home is the risk of taking a big fall. Slipping comes with more risks when you're older – you're more likely to land the wrong way and break a bone or tear a muscle. If you don't have someone to help you get up, you can spend a long time stuck on the floor.
One of the best ways to avoid trip-and-fall injuries is to exercise regularly using a routine that focuses on improving balance. You can follow along with an exercise tape or online video, but consider going to in-person classes. If you're insured under a Medicare Advantage plan, you may be able to use the SilverSneakers program to access a class at a fitness facility for little to no cost. These plans can also insure you for prescription medication and hearing, vision, and dental care.
Group classes don't just teach you the moves – they also give you a chance to check your form and make sure you're doing it right. Moreover, the social aspect of group exercise means you're more likely to stick with it and see results in the long run.
How to Do a Home-Safety Audit
Even seniors who are in the very best shape can have an accident if their home isn't modified for them. Steep staircases and slippery floor tiles are particularly risky. Sunrise Senior Living suggests having a loved one tour your house with you to identify any potential hazards. Senior-friendly features, such as a stair lift or a walk-in shower, can make a world of difference in making your house as safe as possible.
Make a note, too, of any hardware that could be easier to use. For example, lever-style door knobs are a breeze to turn compared to round knobs. Lower cabinetry and pull-out shelves make a kitchen much more navigable. Your upgrade audit doesn't only have to be about avoiding hazards; it's also an opportunity to make life easier in the long run.
Take a Look Outside
As with the interior of your home, you should also check outside for safety hazards. For example, Alert1 notes that uneven walkways, poorly-lit yards, and stairs (especially those without handrails) leading up to your home can all potentially pose threats to senior safety. Make a list of anything that could make aging in place difficult so you can take action.
Also think about the maintenance of your outdoor spaces. Are there tasks that will be more difficult to take on as you get older? For example, gutter cleaning is a tricky job for homeowners of any age, but it's especially precarious for seniors who could suffer permanent damage if they fall off a ladder. For this and similar tasks, it's best to hire a professional. Gutter cleaning costs an average of $106 to $197, and since it only needs to be done a few times a year, it's a job that's well worth the money.
Social Safety Net
As you get older, it becomes even more important to have a strong social safety net. This means you have a wide network of friends and family members who are used to talking to you, check in to see how you are, and would worry if they didn't hear from you. Seniors are at a high risk of depression and other mood disorders. Loved ones who know to check in if they haven't heard from you can prevent isolation.
In some situations, it may make sense for a family member to move in with you so you have an extra pair of hands around for help. This can be a serious boon for anyone worried about their ability to keep up on housework, or concerned about the possibility of falling or needing help getting around.
If no family members are able to join you in your home, you can also look into hiring an in-home caregiver of some sort. These professionals can range from being a helping hand with housework to full-blown medical care providers. Depending on your health care coverage, you may be able to hire someone to help out for a relatively low cost.
Aging in place can mean you need to make modifications to your home and adjustments to your lifestyle. However, this is a small price to pay for the ability to stay in the place you love, full of the memories you cherish most.