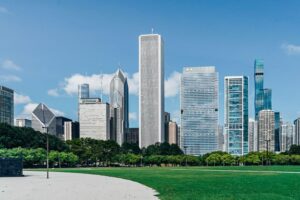 Public parks promote the health and well-being of everyone living in a community. Becoming a park advocate is a great way to support the upkeep of your local parks and encourage action to improve them. By focusing your efforts on improving public spaces like parks and playgrounds, you can make a real difference in your neighborhood! Here are some tips from professional real estate company, David Steele & Associates, to help you become a public park advocate.
Promote the Benefits of Public Parks
If you want to be an advocate for public parks, you need to get other people to care about the green spaces in your city. Jump on any opportunity to educate others about the benefits of public parks. Talk about how public parks collect and absorb storm water to prevent flooding, reduce heat concentration in cities during summer months, provide a space for neighborhood residents to socialize, and remove a wide variety of pollutants from the air.
Parks also give visitors and surrounding residents a mental health boost. According to NPRA.orgt living in a place with more natural surroundings produces mental restoration and benefits cognitive functioning and attentional capacity! Bring up these points whenever you're arguing for the importance of public parks.
Brainstorm Park Safety Solutions
Parks and recreational facilities provide a safe place for people to interact and keep youth off the streets and out of trouble. Do your public parks feel safe for everyone? If you notice safety issues in some of your major parks, bring your concerns to the appropriate authorities. Research some ideas for dealing with these safety issues so you can present solutions instead of problems, increasing the chance that someone does something about your concerns.
Installing lighting is one way to enhance the safety of your public parks. Look into lighting options that are affordable and aesthetic, and find out how much funding you will need to drum up to have them installed. Here are some parking lot light poles that are durable, long-lasting, and will look great in your public parks!
Plan Community Events
Creating a sense of community is another way to make parks feel safer and more welcoming to locals. By encouraging more people to spend time in parks, you'll have more eyes and ears looking out for suspicious activity and reporting issues to authorities. Planning engaging events is a great way to get people to visit parks more often. Park Pride suggests hosting events like volunteer workdays, sports tournaments, neighborhood cookouts, scavenger hunts, and outdoor concerts. Just be sure to obtain the appropriate permits from your city first!
Propose Landscaping Improvements
Part of being a public park advocate means advocating for landscaping improvements that enhance the safety and usability of parks. For example, planting trees in parks is a great way to create shaded areas where people can enjoy picnics. It's also important to think about park accessibility for both children and adults with disabilities. When planning landscaping upgrades, try to work with the natural surroundings to create a natural design. This type of landscaping is more affordable and eco-friendly because it uses existing features like hills, trees, streams, and ponds.
These same landscaping principles can be applied when creating trails through wooded areas. Design trails with the users in mind, but remember to think about the impact on plants and wildlife as well. Keep trails away from habitat areas and avoid cutting through undisturbed forest. Instead, use natural openings and human-created paths to guide your trail plans.
Becoming a public park advocate is a great way to have a positive impact on your community. Spend some time exploring the parks in your area and thinking about ways in which they could be improved. Then, bring your ideas to your local parks and recreation administrators so you can get people to take action!
Are you looking for real estate in Barrow County, GA? Contact David Steele & Associates, LLC for all of your residential and commercial real estate needs! Call 404-455-5854 today!